Art in America – February 1, 2003
HELNWEIN AT MODERNISM
Gottfried Helnwein's extensive 1997 retrospective at the State Russian Museum in St. Petersburg gave visitors an overview of his work going back to his street actions in Vienna in the 1970s, his grimacing iconic self-portraits that suggest self-mutilation, and on to his menacing canvases depicting the evils of the Third Reich.
He has worked as a painter. draftsman, photographer, muralist, sculptor and performance artist. His work is consistently concerned with psychological anxiety.
In his new series of paintings, done in somber monochrome blues, he continues to work with singulae sense of suspense and mystery.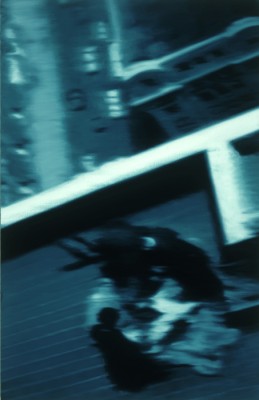 When Helnwein moved his studio from a castle in the Rgine valley to downtown Los Angeles about a year ago, he decided to depict the life around him. Many of the new paintings seem to be in dialogue with Hopper's images evoking urban loneliness. Helnwein's paintings, however, are based on his photographs, which he transfers onto canvas using an airbrush, inkjet printing or, at times, traditional paintbrushes.
The works in the "Downtown" series are provocative images of isolated individuals, empty hallways, vacant warehouse exteriors, bare, eerily lit rooms, mysterious accidents and crowds of sinister men on street corners.
The series also includes strange paintings of intimate human encounters such as Downtown 18, which shows a woman kissing another bare-breasted woman, whose throat has been cut.
Gerhard Richter's "18.October 1977" suite comes to mind, but Helnbwein remains nonnarrative. His paintings of bewildered dramas leave the viewer adrift in their macabre world.